Project
Design, implement and validate 
Design, implement and validate a separate, dedicated, realtime Trusted Execution Environment (TEE) for highly-trusted CPS Apps. hypervisor for virtualization.

Provide and validate 
Provide and validate an end-to-end solution for development and deployment of trusted Apps.

Design, implement and validate 
Validate the multi-level trusted Apps platform and tool chain in several application domains using industrial, realistic use cases and to develop domain-specific exploitation plans.
TAPPS architecture
---
A novel approach towards extensibility of cyber-physical systems (CPS) is presented, which goes beyond traditional solutions for safety, security and reliability.  The architecture, developed in the TAPPS project, offers multiple layers of security, from hardware over software to an app store, as well as full real-time support.  The key features of the TAPPS architecture are: three different app execution environments (EE), the trusted Inter-EE and inter-app communication platform, the trusted network architecture, and the trusted development and model-based toolchain.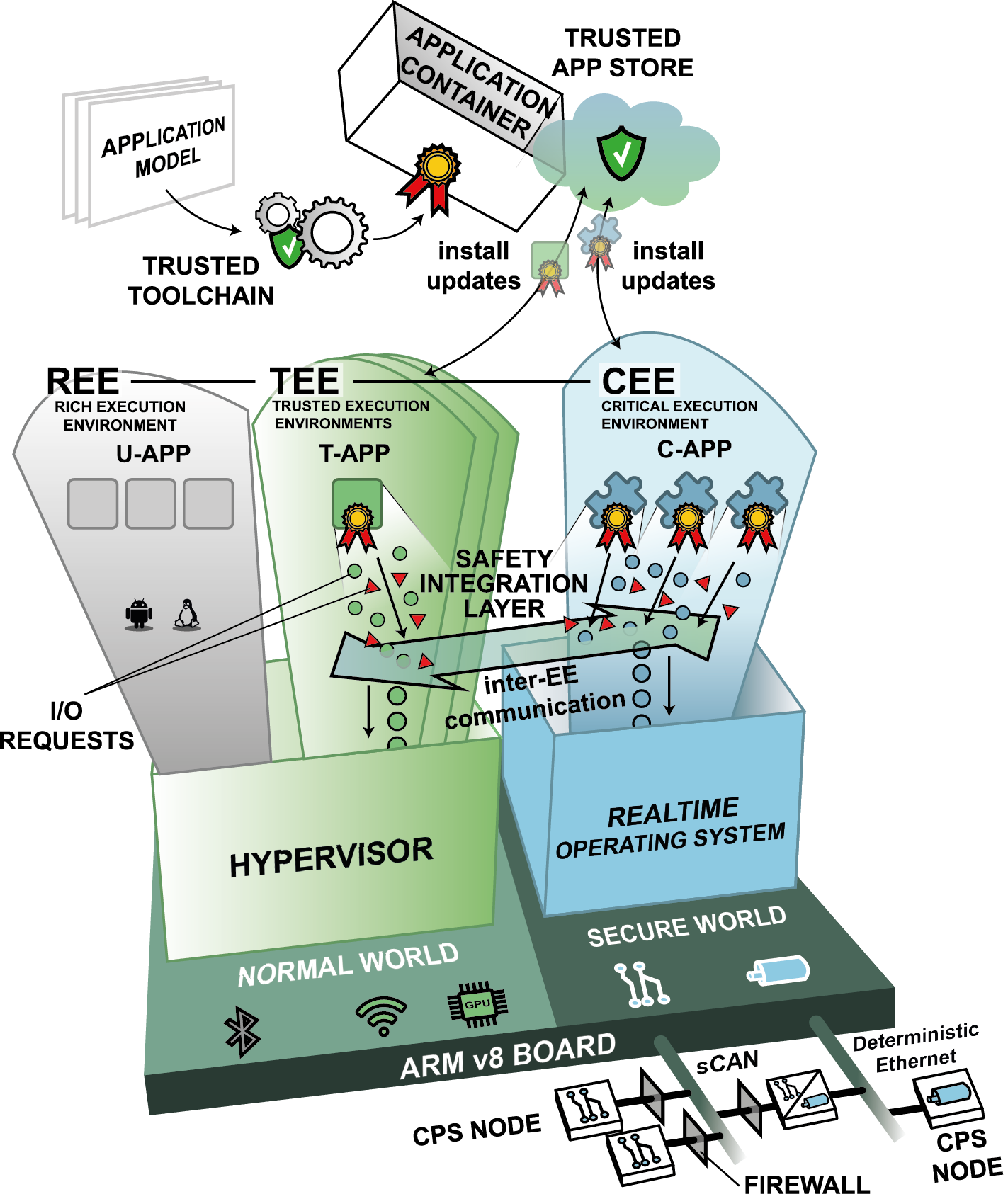 DESIGNED FOR OPEN CPS 
TAPPS provides an architecture for future open CPSs for integrated services and products.
EXTENSIBLE AT RUNTIME
TAPPS focus on open CPS devices that are extensible at runtime, by instantly adding functionality on demand.
SECURE BY DESIGN
TAPPS provides multiple layers of security against attacks, from hardware over software to the support of an app store concept.
PROTECTED RESOURCES
TAPPS also provides protection and isolation of resources through virtualization techniques.
TRUSTED APPS RUNTIME
TAPPS trusted platform addresses the development, deployment and operation of apps and guarantees integrity, safety, security and real-time requirements.